March 23rd, 2010
Egypt is a beautiful country with a very fascinating Arab culture. Walking through the streets you will see the women in their traditional clothing who look at you with a mixture of curiosity and disbelief.
The contrast between the traditional Egyptian culture and the tourist resorts created around Naama Bay is huge and you will pass from sacret places to wild party scenes where young people dance to modern Arab beats while having a great time.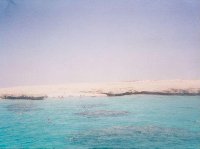 The island of Tyran, Egypt.
Of course it's not all happiness and talking to some of the local guys was really interesting.
Learning more about there costums, beliefs and traditions practised in every day life changed my perspective on everything and I really started to feel a great respect for them.
Visiting a place is one thing but being able to understand the people and see their land through their eyes made everything so much more intense. I had an amazing time in Egypt and will never forget the experiences I had there.