May 5th, 2010
The Tikal National Park is an important UNESCO heritage site and a great place in Guatemala to spot the ancient Mayan ruins so we decided to book a sighteeing tour from Flores, south of Tikal.
The bus left really early, at three thirty in the morning, so we didn't get too much sleep the night before. The ride was a bit bumpy but fine and it took us about an hour and a half to drove up to Tikal.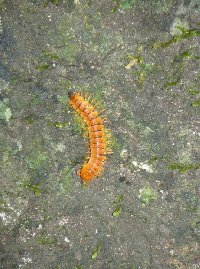 Orange insect in Tikal,..
We were supossed to arrive just in time for sunrise which turned out to be around ten in the morning so there we were in the middle of nowhere with a couple hours to kill before sunrise. Luckily we had a guide!
Our guide took us on a hike through the forest which was pretty scary considering all the wild monkey's making all kinds of weird sounds and him being the only person with a torch..
The area at Tikal is known for its flexible spider monkey's and a few hours later, after sunrise, we were able to witness just how flexible these animals move around, incredible! We also saw a lot of gorgeous birds and some of them made even louder noises than the monkeys.
We hiked all the way to the top from where we had a stunning panoramic view over the Maya Ruins and the entire El Petén region. The temples were amazing and we managed to climb three of them. Some had wooden stairs but others didn't so especially the getting down part was quite a challenge!