November 29th, 2010
The Mayan ruins that can be found at the archeological site of Tikal are located in northern Guatemala and form the area´s number one tourist att raction.
During my stay in Guatemala, where I went for an internship of three months, I went on different trips and got to see a lot of the country.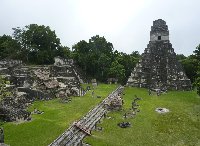 Travel Experience Tikal
The best way to visit places like Tikal and other important cultural and historical places is with a local or at least a guided tour because driving there up yourself might be comfortable but you´ll miss out of some of the interesting things they can share with you and probably fail to understand how important these archeological sites and the ancient Maya traditions are for the people of Guatemala.
I had a similar experience when I travelled to Mexico a few years ago and visited some of the Inca sites. Not having a guide or not being able to understand the meaning of certain sculptures or statues made the experience less intense and kind of meaningless to be honest.
Walking along the Mayan Ruins of Tikal and imaging how the forefathers of the Guatemalan people used to live here was a unique experience and I would recommend visiting Tikal to anyone coming to Guatemala.