May 5th, 2010
The colonial town of Suchitoto is situated in Central El Salvador and known for its beautiful white cathedral, its art galleries and pittoresque city centre.
You won't spot a lot of tourists in Suchitoto and it may not be one of the most spectacular travel destinations within El Salvador but when thing slow down in towns as Suchitot and you have the time to look around, taste some traditional dishes and do some shopping on the local market you will get to see the real El Salvadorian way of life!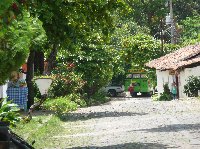 The streets in Suchitoto, El..
Besides the local bars and eateries the touristic attractions of Suchitoto include its artificially dug Suchitlán Lake which is formed within the San Francisco Lempa River and of course the Santa Lucia Mártir Cathedral which is the town's gem and centre of attention.
The Iglesia de Santa Lucia is located on the Plaza Central of Suchitoto where you will also find the market stands in the weekend. There's also a round fountain in front of the white cathedral, making it impossible to miss it!