August 28th, 2010
This May I went to El Salvador with my girlfriend as we participated in a volunteer project in Santa Ana.
Santa Ana is the second largest city of El Salvador after its capital San Salvador.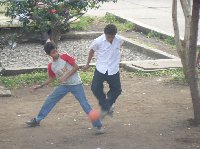 Tours Santa Ana
Santa Ana is located near the borde with Guatemala in west El Salvador and has become a pretty popular backpackers travel destination especially with tourists travelling through more countries in Central America.
Besides a very nice city Santa Ana is also located in El Salvador which is still one of the poorest places in Central America as crime rates are high and public welfare practically non esistent.
This is also the reason why we wanted to combine a sightseeing holiday with volunteerwork this year. After our stay in Santa Ana we travelled to the south coast of El Salvador for a more relaxing surfing holiday in Playa El Tunco.
In Santa Ana we went to see the Cathedral of Santa Ana, or the Catedral de la ciudad de Santa Ana, and of course the Santa Ana Walk of Fame which has been copied of its American version in Hollywood.