August 29th, 2010
From Santa Ana in the central west part of El Salvador we took the bus to Playa El Tunco, a relaxed surfing town in the La Livertad department on El Salvador's south coast.
After our volunteering work in Santa Ana we chose Playa El Tunco as the perfect travel destination for a more relaxing end to our stay in El Salvador.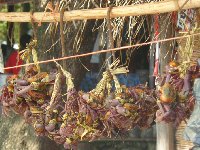 Tourism Playa El Tunco
Playa El Tunco is known with locals and tourists alike as a perfect weather surfing base where days are spent on the beach in between a surfing lesson and a very traditional El Salvadorian BBQ.
We had some surfing lessons which was a first timer and a lot of fun eventhough it wasn't that easy to keep yourself standing on the board with the rough waves crashing upon you.
Beside the surfing Playa El Tunco is the perfect place for other activities like hiking, rock climbing and of course swimming as the beaches are very nice.
We also went to see the El Tunco Rock which is actuallu pretty nice considering the Salvadorian meaning of its name, Pig's Rock.. We had a great experience in El Salvador and the combination of doing the volunteerwork in Santa Ana with a visit to the south coast was perfect and I would recommend it to anybody travelling to El Salvador.