May 6th, 2010
After my working experience in Papua New Guinea I decided to travel through to Indonesia and extend my stay in this beautiful part of the world.
From Indonesia I travelled to the Island of Palau which lies to the north of Indonesia and just East of the Philippines.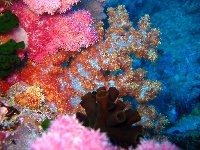 Amazing coral and..
Palau is known for its gorgeous reefs and beautiful marine life so what better place to train my diving skills?
The underwater world was breath taking and I couldn't believe the beauty of this place! The photos I took with my underwater cam turned out to be amazing and still in real life it was even better!
The water was crystal clear so there was a great visibilitity to spot reef sharks, manta rays, turtles and amazing fish. I did several liveaboards dives and had the best time!