September 19th, 2011
If you're looking to enjoy a unique diving experience the Republic of Palau with its stunning and almost magical islands can be a dream destination.
Together with Gary my best friend since thirty years I had planned a cruise holiday to Malakal Island to experience diving on Palau and enjoy a different holiday away from home.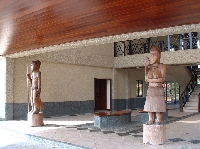 Travel Guide Malakal Island
We arrived on Malakal Island where the most important port is situated. From Malakal it isn't far to Koror Island and Koror city which is the largest city of Palaua and logically located on the island.
Weather can be quite typical on the islands and clear blue skies can turn into greyish clouds within minutes so prepare for both and bring warmer clothes as well.
The Rock Islands in Palau are your best chance to find stunning marine life and diving here can be mindblowing. These islands will offer you a great ride whether you want to explore underwater or remain inside your boat as surroundings are beautiful.
Back on the islands life is less exciting although the people were very friendly. We had a hotel in Koror and rented a car to explore different parts outside the city.