May 8th, 2010
Bijilo Forest Park is situated on The Gambia's West Coast and just north of Bijlo City, near the Senegambia area. The Park is also known as Monkey Park for the many monkeys that inhabit the area.
At the entrance of the park you will find a map with a route to follow but either way you choose the monkeys will catch up on you trying to score something to nibble on.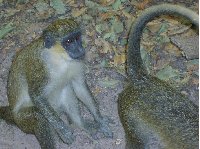 Vacation in Bijilo National Park
Species which are spotted in the Bijilo Forest Park are the Green Vervet monkey, the Patas monkey, the Red Colobus and the little night monkey known as the Galagos or bushbabies for their cute and curious faces.
As soon as we entered the Bijilo Forest Park we spotted a huge group of Green Vervet monkeys. The monkeys weren't shy at all and we managed to make some great pictures. We also saw some Red Colobus monkeys which were beautiful.
The best way to get to Bijilo Forest Park is to walk directly from Senegambia beach but you can also use the road from the strip and walk straight down southwards. On your way you will see guides at the front entrance of the park who are able to show you around.