June 22nd, 2010
In April I went to Israel on a holiday with my husband to visit Jerusalem and Tel Aviv, two of the most visited places in Israel which show an interesting contrast between historical sites and modern constructions.
We stayed one week in Tel Aviv and another 7 days in Jerusalem where we visited some of Israel's most precious heritage sites.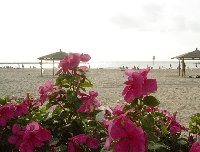 Travel Blog Tel Aviv
Jerusalem is a beautiful city with a lot of tourist attractions like the ancient city walls, the Tower of David, the Western Wall, the Dome of the Rock and the many local Isreali markets or souqs which can be visited by tour of on other occasions and are the perfect place to taste local dishes and experience the Israeli culture.
Tel Aviv, or Jaffa, on the other side seems a world apart inside Israel and for the best travel experience I would definitely recommend travellers to make a trip from Tel Aviv to Jerusalem or the other way around to live this country in two completely different ways.
The city of Jaffa is situated on the Israeli coastline and offers some amazing panorama's in both directions. Looking at Tel Aviv the city skyline is something special with the beachfront and ancient port on one side and the immense skyscrapers of the Azrieli Center on the other.
To get from Tel Aviv to Jerusalem you'll have to move about 65 km in eastern direction which can be done by taxi, bus or train. Besides the private taxi you can also take the sherut which is a shared taxi and can be a bit more economic.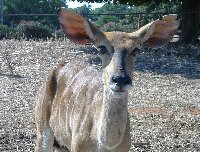 Travel Blog Tel Aviv
While in other countries taking the bus is the most comfortable form of transport this isn't the case in Israel and finding your way at a Israeli bus station can be quite confusing like we experienced.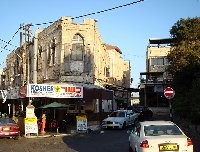 We took the bus from Tel Aviv to Jerusalem at the Tahana Merkazit Tel Aviv Central Bus Station and paid about 5 dollars for a ticket which is nothing for an hour and a half bus ride. It was pretty hard to find the right place at the station from where our bus departed and we just made it on time as the driver took off as soon as we hopped on board.
In the end everything worked out fine but I would consider taking a taxi to Jerusalem is you want to avoid the hassle or have a lot of luggage to look after. Then, upon arrival at the Jerusalem Bus Station you have to hurry to get your luggage off the bus or the driver will leave you without!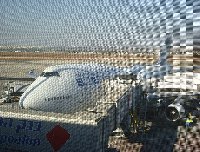 To get to your travel destination in Jerusalem you will need to take a taxi, sherut or another bus which again will be your cheapest but most complex option.
Well, for those who prefer beautiful scenery and travelling by train getting from Tel Aviv to Jerusalem can take even longer if you choose to travel by train but of course the views are worth it. You can buy a train ticket to Jerusalem at the Tel Aviv Train Station and will need to get to your hotel or accomodation by taxi or bus. The only advise I could give anyone travelling to Israel is to bring just the necessary luggage and that a visit to both Tel Aviv and Jerusalem will be worth any transport frustrations!