July 18th, 2010
Hue is the monumental capital of Vietnam if you could call it that and it's no wonder UNESCO recognized the old historic walled city, also known as the forbidden city of Hue, a World Heritage Site.
Many years ago this citadel, or walled city, was the capital city of the Nguyen Empire and a place just for Vietnam's most priveleged people, the Nguyen emperors and their loved ones.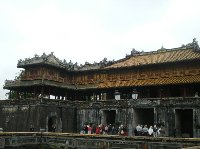 Travel Guide Hue
Today the forbidden city of Hue can be visited by tourists and locals alike and the city even wants to promote the history of Hue by reconsturcting parts of the citadel.
The monuments are incredible and the whole site has a real mystic feel to it. You'll be able to see some ancient imperial cannons and former temple grounds.