February 7th, 2011
Hue is a beautiful imperial city of the former Nguyen Dynasty and the best way to explore this city would be either by foot or by maybe by touring bus or tuk tuk.
There are a lot of interesting sites we visited during our stay in Hue like the Citadel of Hue and of course the ancient city gates but also temples and pagoda´s.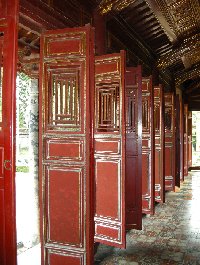 Travel Blog Hue
My husband and I had visited Cambodja last year and it was interesting to see similar architecture but also features that were completely different and colourful.
The temples were real pieces of eye candy with their buddhist ceramic statues and colourful paintings. We also loved the view of Huong river in Hue known as the Perfume River for its pleasant flowerish aroma.
Our guide told us that especially in Autumn the river is filled with flowers fallen into the water more upstream giving the river and who knows the city of Hue its own perfume.