July 23rd, 2010
Siraz is a beautiful city to visit if you're travelling to Iran because of its rich past and old persian sites like the one in Persepolis are a true delight.
Persepolis is known as the City of Persians and is located north of Shiraz, definitely worth a visit if you're staying in Shiraz. We had a rental car so we chose to go to Persepolis on our own while other travellers might prefer a guided tour.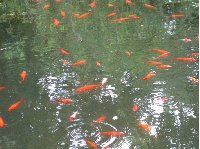 Holiday in Shiraz
In Shiraz we loved the beautiful Eram Garden which is filled with colourful flowers and a beautiful palace just like the Persian gardens used to have.
The Eram Garden is the perfect example of elegance and this is a nice place to go for a stroll or admire the decorations of the palace.
At night, but also during the day, we visited the illuminated Tomb of Hafez, a Persian poet and an important figure in the history of Iran. When you get to the Tomb of Hafez make sure to look up as the mosaics are truly amazing!