July 28th, 2010
Every year around May or June my family travels to Marrakesh to visit our relatives and spend a month in our home country. My parents came to Europe a long time ago but Morocco always had a special place in their hearts and I guess they gave that same feeling to me and my sisters.
Since a couple of years we have our own house in Marrakech which makes planning a holiday a lot easier and of course cheaper.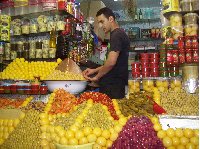 Travel Blog Marrakesh
Compared to other holiday packages it migh be a cheap holiday for us because Marrakesh has really flourished on the touristic market but luckily for us we can turn it into a real treat and luxury holiday away from home.
Marrakesh is changed a lot in the past decade and has started to attract a lot of capital and investers creating a market for travellers looking for more luxury and higher standards. Today, the city booms with nice boutiques, lively bars and expensive restaurants.
Besides the great nightlife, great food and entertainment Marrakesh offers a lot of cultural sites. Like many North African cities Marrash is a beautiful fortified city with a very interesting historic center and of course the ancient city walls, the Medina of Marrakech.
The Koutoubia Mosque is probably the city's jewel as it dominates the Marrakesh skyline with its gorgeous minaret but also Djemaa el Fna Square deserves a visit, especially at night when the souq opens it doors and the food stalls invite tourists and locals alike.