August 16th, 2010
After some jeep safari's through various game reserves throughout Southern Africa we were heading to Maun, a city in the heart of Botswana which is known for their air charters over the Okavango Delta.
The Delta is a beautiful area for a air safari tour as you can get an amazing view of the Thamalakane River making its way through the Okavango Delta.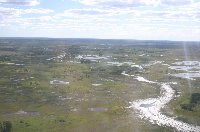 Tourism Maun
The air charter was really cool and the pilot made us feel at ease straight away. We went in groups of five so being with a larger tour group I couldn't wait untill it was my turn!
At a certain point we flew above a hurdle of wildebeests which was so impressive and beautiful to see from up high.
We also spotted some buffalo's and saw the famous Buffalo Fence construction which separates the outer parts of the Okavango Delta of the inner part to prevent cattle diseases from spreading out over the entire delta area.
The air charter safari was a great experience and left us with great memories of Botswana. From Maun we crossed the border with Namibia where a new adventure would be waiting for us.