August 22nd, 2010
After our trip through the heart of Colombia we had said goodbye to this beautiful country in Barichara and moved to Venezuela where we spend our first days in Merida, the capital of the Merida state.
One of the most popular tourist attractions is without a doubt the Teleforico de Merida, a sort of cable car service that runs up the mountains that dramatically decorate this city.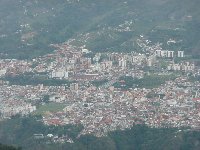 Travel Experience Merida
The climate in this part of Venezuela can be quite chilly and the higher you will go up with the Teleforico de Merida the more cold it will get.
To dress warm for this attraction therefor won't be a mistake as we were happy to have brough our hats and scarfs with us!
The views down the teleforico are very beautiful though and as the cable car climbs higher you will be able to view down the city of Merida, it's vegetation, cliffs and lakes from through the clouds, a very impressive sight.