February 11th, 2010
What can I say, if you have never been to Venezuela you have missed the most beautiful country in the world. Unfortunately Venezuala is also listed as one of the countries in the world with the highest crime rates which especially accounts for Caracas, the capital of Venezuela.
I went to Venezuela because I have a lot of relatives there so I spend 38 days in Caracas to visit them and, of course, enjoy the good things Venezuela has to offer!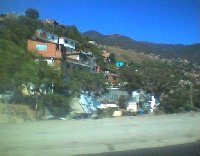 Houses near the beach
The whole trip was amazing and right from the start, as soon as I landed at the airport of Caracas I felt like I had entered a whole different world. Venezuela for me is a really special place and it's hard to compare its beauty to any other destination in South America.
After you get over your first panic attack walking through the streets of Caracas you will look at this city differently. As you start to look at the people with curiosity and not fear you will see their kindness and appreciate their gestures. You also start to realize what is important in live and how spending half of your salary every weekend on drinks and dining out isn't the way to live..
Besides the people and the cultural differences you can't deny Venezuela's natural wonders and you will find some of the most stunning beaches in this part of South America. There is a lot of green and its paradise for animals lovers too.