March 8th, 2010
In 2004 I made an unforgettable trip to Venezuela. We decided to take an off road tour to the Brazilian border and we also visited the incredible nature of the area around Cainama.
Cainama is also home to some amazing waterfalls and of course the Salto Angel water fall which is known as the tallest waterfall in the world! Seeing this natural wonder with my own two eyes was incredible and teh panorama will take your breath away.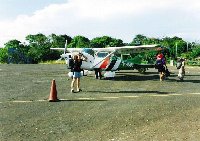 Getting on the flight to..
The island of Margherita is also beautiful and the surrounding arcipelago of Los Roques is home to numerous stunning little islands which are perfect for a romantic boat trip away from the main land.
The people in Venezuela are very friendly and welcoming and we found them really hospitable. The spoken language is Spanish.
The local cuisine is really something I would recommend and you will be able to taste some heavenly dishes like Arepas, a fried apetiser made of corn, and la Parilla, which is an amazing dish of grilled meat. There are also a lot of seafood restaurants which deserve a visit.