September 7th, 2010
For work I travel to Singapore on a regular basis and sometimes this means that I spend a few days there but sometimes even a few weeks, always depending on the project we're working on.
From Mumbai where I live it's a 5 hour flight to Singapore which is not that far away and I usually fly with Singapore Airlines because of it's great service, even when I'm travelling to other places in Asia.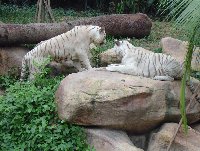 Tours Singapore
Singapore has become like a second home for me and my wife as she every now and then joins me on my trips down there.
When I stay in Singapore for a longer period of time we often spend the weekends sightseeing or going on day trip to for example the Singapore Zoo or visiting one of the smaller islands.
Once we visited Sentosa Island which is a rather popular resort island near the the southern coast of the main island of Singapore and a good travel destination for a more relaxed holiday.
On Sentosa Island we went to see Fort Siloso, relaxed on the beach and did some sightseeing and wildlife spotting as you will come across all kinds of curious fauna from lizards and monkeys to parrots and other exotic birdlife.