April 7th, 2011
For Christmas 2010 I had planned a holiday to Singapore with my partner and thanks to the amazing staff and structures of the Marina Bay Sands Hotel where we stayed for a total of three days of our two week holiday we had the time of our lives.
I found the Marina Bay Sands Hotel simply by searching on the internet and the architecture of the hotel catched my eye straightaway.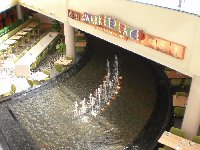 Travel Singapore
From the hotel deck we had an amazing view of Singapore City and where else could we find a pool right on the roof like this!
The Marina Bay Sands Hotel was the perfect base for our holiday in Singapore and especially for couples and loved ones looking for a relaxing holiday you can expect to get pampered here.
The room was also very nice and we had a comfortable king size bed and again a great view of the Singapore skyline. Below you can find both pictures of the hotel as other sightseeing pictures.