January 9th, 2010
After a visit to Chinatown your next step will be a visit to Little India on the other side of the Singapore River. When Chinatown lies on the west of the rive you'll find Little India on its easter side. Both neighbourhoods are accessed over the water by boat or ferry but you can also take the tram to either Little India Station or Farrer Park station.
Little India has some amazing markets and streets to walk through and popular touristic attractions include the Veramakaliamman Temple, the Foochow Methodist Church, the Sri Vadapathira Kaliamman Temple and many other Hindu temples and places of worship. Most of them are found on Serangoon Road where you'll also find less sacred stops like the Tekka Malla and the Little India Arcade.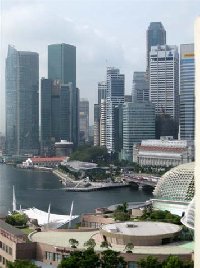 Overlooking Singapore City
Serangoon Road has some beautiful shops and sights and eventhough you can take a tuk tuk, the best way is definitely to walk through the neighbourhood because you'll find something interesting on every corner.
Markets in Little India are famous for their delicious curries, beautiful hand made clothing and the freshest Indian ingredients. Just keep in mind that your first Indian curry should best be a mild one because the spicier ones are definitely for the advanced players:)