October 31st, 2010
When you're on a holiday in Ecuador a boat ride to the world famous Galapagos Islands is definitely something that will make your travel experience even more unforgettable.
Of course, it'w quite a boat ride but without a doubt a very exciting one. The best thing to do is to stay at least a few days so you can explore the various islands and don't feel like you're rushing your travel plans.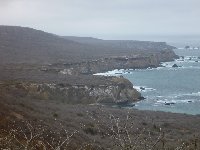 Tourism Galapagos
We stayed in Puerto Villamil for four days and had a fabulous stay at the four star Hotel Albemarle.
During the journey we came across a group of passing whales and I still can't believe how lucky we were to be there right that moment.
The whales swam along with the boat for more than ten minutes and kept breaching making amazing jumps in front of the boat which was really awesome.
The Galapagos Islands are known for its wildlife and especially the birdlife is very impressing. I loved the bird with the blue feet, the blue footed boobies, they were just so funny.
We had a great time during our trip to the Galapagos Islands and I would suggest booking a boat ride like the one we did to anyone travelling to Ecuador.