December 8th, 2011
The Galapagos Islands is one of the most stunning travel destinations in the world and if you're planning a trip to Ecuador there are a lot of stunning islands to visit all part of the Galapagos archipelago.
During my stay in Ecuador I went on an amazing trip to the Galapagos Islands. We visited different islands but arrived at Isla Santa Cruz where we stayed at La Laguna Galapagos Hotel.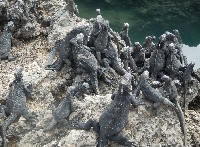 Travel Galapagos
From Isla Santa Cruz we made a boat trip to Isla Floreana where we encountered some of the most impressive wildlife I had ever seen in my life!
You can also pay a visit to the Charles Darwin Research Station in Puerto Ayora on Santa Cruz Island and have a look at the giant turtles this beautiful archipelago is famous for, a great experience.