February 10th, 2011
The Galapagos Islands are a true paradise for wildlife lovers and for myself, being quite an obsessive birdlover, it was more than a logic travel destination during my time in Ecuador.
The Galapagos Islands are famous for its extraordinary birdlife and I would have made the same boat trip even knowing that I would only encounter one single blue footed boobie!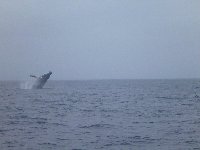 Holiday in Galapagos
These amazing creatures were actually the main reason for the organization of my Galapagos Islands trip but while heading there I was in for some other surprises and the locals of the islands made my boat trip quite spectacular.
Not too far from the shore we encountered a group of breaching killer whales and these mammals know how to have a good time! We could see them speeding up and jumping out of the water, it was so cool. And the captain of our boat also informed us that the in general the whale don't like to show off that much so we were really lucky to be able to witness their playtime.
The only bad thing about my Galapagos Islands trip was the weather and it was a bit rainy but at least all the other things I got to experience made up for that:)