June 16th, 2010
I had travelled a few times to South America during my studies because it was the only continent I really felt great passion for. During those travel adventurous I had visited also Ecuador but never made it to the Galapagos Islands, my ideal travel destination which after years had become some kind of utopia it seemed.
This June I finally made it to the Galapagos Islands without planning it myself! Two of my best friends decided to get married in Ecuador and had arranged their honeymoon with an all inclusive Galapagos Islands travel package and I was invited!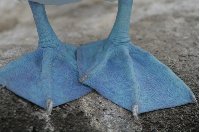 Travel Galapagos
I had heard a lot of travel stories about the Galapagos Islands and I believe I had seen every single national geographic documentary about curious Galapos facts and of course the Galapagos Islands animals because the fauna is truly amazing and one of a kind!
Animals like the blue footed booby and their giant turtles are so unique for Ecuador that a visit to the Galapagos Islands will transform your vacation into a surreal travel experience. In my case the bride and groome had arranged our entire travel package but even when already in Ecuador cheap package deals to the Galapagos Islands can be found.
We had good weather during our stay and I spend most of my time on the islands looking for curious animals and plants to photograph. It make me feel like a real explorer and I realized I should have visited the Galapaos Islands so much sooner!