November 28th, 2010
I had a great holiday in Cape Verde and stayed one week at the Island of Sal, one of the islands of Cape Verde and probably the most common one to travel to.
The idea to spend a week of relax at Santa Maria, the largest town on Sal Island was my boyfriend's and he actually came to surprise me at work with two plane tickets!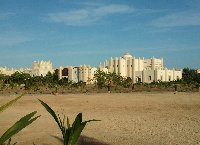 Travel Santa Maria
A great surprise because usually I plan our trips and getaways so finally I could sit back and enjoy a complete week of doing nothing but sunbathing and enjoying the trips we went on during our holiday.
The best thing about our vacation was our stay at the Riu Garopa All-inclusive Resort at Santa Maria which was fabulous! We could enjoy an unlimited buffet every morning, afternoon and evening, great food!
Plus being strainght on the beach the resort was the perfect place to stay and we really enjoyed every single bit of it!