January 3rd, 2010
Cape Verde has some of the finest beaches on Africa's west coast. On the island of Sal the beach stretches for several km all the way up to Santa Maria, the main town centre of the island.
The Cape Verde archipelago is located in front of the coast of Senegal and Mauritania and is divided into two groups of islands, the Barlavento Islands and the Sotavento Islands.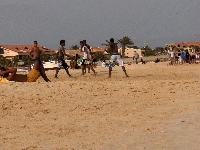 Capoeira pictures in Cape..
These two groups give form to the ten islands of Cape Verde: Santo Antao, Sao Vicente, Santa Luzia, Sao Nicolau, Sal, Boa Vista, Maio, Santiago, Fogo and Brava.
The Capital of Cape Verde is Praia, located on the Santiago Island, and also the largest city of the country.
Influences on aspects in every day life are of Portuguese and African origin because of the Portuguese colonization of the islands until 1975 and the position of Cape Verde in front of the African Coast. You'll see a lot of Senegalese sales men on the local markets trying to find their luck overseas.
On the island of Sal you'll find the beach resort of Santa Maria which is popular for its long stretches of beach and the good climate on the island. Sal has 350 days of sun so it would be hard to get your holiday ruined due to the weather:)