September 27th, 2009
My first trip out of Europe was to Cape Verde. We stayed on Isola do Sal for one week at the Djadsal Resort which attracts a lot of Italian tourists.
The resort was really beautifull with a friendly staff and an outstanding restaurant which offered a wide variety of food and drinks. The resort also has a tourists desk where daytrips can be booked. We chose to go on a quod tour in the desert which was totally cool.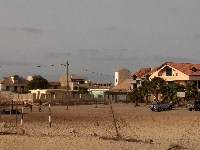 Travel Experience Santa Maria
The two young guides showed us the rough edges of Sal and took a few stops to let us catch our breaths on the beach. We also stopped at a famous turtle beach where we, unfortunaly, missed the cuties and could only spot some old turtle skeletons..
Back in the resort there were a lot of animation events wich I personally hated but other guests seem to enjoy to the fullest:)
The cabins we stayed in had an amazing sea view and the Djadsal resort is built on top of the beach so you just stroll out of bed straight onto the beach!
It's a short walk to the town of Santa Maria where locals relax and hang out close to the pier. While some little kids were junmping off the pier and others practised some impressive capoeira two other cape verdian boys were celebrating their 'catch of the day'.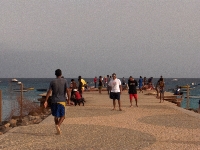 The beach
With a rubber boat and a large piece of wood they managed to catch a huge shark!! When we arrived the boys ( age 10-12?) were towing in the shark and after a while one of them proudly showed me the amazing teeth of the shark. The flesh of the shark and also its teeth are really good for selling they told us so just the useless parts were thrown away.
When I asked the boy if I could make a picture of him with his cath, he was proud enough to stick his head through the remains of the sharks jaw and say cheese:)
Check out the pics!