December 9th, 2010
My travel adventure this Autumn started with a flight from London to Moscow where I spend one night upon arrival before hopping on the direct train to Yaroslavl, leaving from Yaroslavsky Station.
Yaroslavl is a city in the central western part of Russia, north east of Moscow and to be able to travel up there by train you will pay around 10 GBP, which would come down to 11 EUR or 14 USD so really not that much for a 155 miles/ 250 km train ride!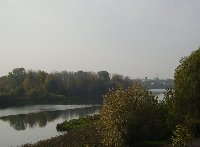 Trip to Yaroslavl
I decided to start my journey in Russia in Yaroslavl and travel to Kostroma, St. Petersburg and Moscow visting as much as possibile. It was a very interesting journey and I met a lot of nice people on the way.
In Yaroslavl I stayed at the Exeter House Hotel which had a friendly staff but the decor was a bit dated. The hotel had a good location though and just a few bus stops from the railway station it was a great base to explore the historical part of Yoroslavl with its beautiful cathedrals.