December 14th, 2011
We arrived in Yaroslavl after breakfast and followed our guide for a sightseeing tour around the most the tourist attractions of Yaroslavl starting with some beautiful churches.
The Church of Elijah the Prophet in Yaroslavl was incredibly beautiful and its interior is stunning. We had a very interesting tour around the church and were shown all the architectural highlights.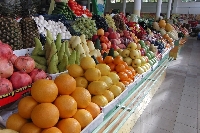 Vacation in Yaroslavl
If you wan't a great view from the city of Yaroslavl make sure to visit the UNESCO- listed Spaso-Preobrazhensky Monastery in the center of Yaroslavl which by the way has made it on that list on its own:)
A great place to visit and really worth booking a sightseeing tour to learn more about the rich architectual influences of the Russian tsardom.