February 25th, 2011
When you're visiting Hong Kong in Winter one of the places to absolutely visit would be the Tian Tan Buddha, also known as The Big Buddha and as soon as you will see the giant Buddha sitting upon the hill at the end of the cable car line you will understand its nickname.
Wintertime in Hong Kong with its mystic mornings, and this year's exceptional foggy weather conditions, makes a trip to Ngong Ping on Lantau Island the perfect period.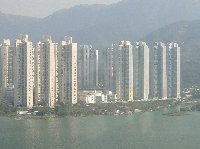 Where to go in Lantau Island
Lantau Island is the largest island of Hong Kong and lies to the southwest of China. It's known for its many monasteries which like The Big Buddha are proudly dominating the island's highland.
Eventhough Ngong Ping is quite touristic a trip to Hong Kong wouldn't be complete without it, not just for visiting the monastery but also for the impeccable view of the north coast of Lantau Island, that is where you will hop on the cable car at Tung Chung Station, all the way to busy central Hong Kong untill you'll reach the hills. Make sure to prepare mentally for the transparent cabin floor though!