November 12th, 2010
Hong Kong Island is one of my favourite travel destinations in Asia and when I'm here for work I usually try to combine my stay with a few days off to enjoy the tranquillity and beauty of it.
While dowtown Hong Kong represents everything that today's modern society is with high skyscrapers, screaming billboards and hectic traffic there are also a lot of great getaway destinations in and around Hong Kong which keeps the city in balance.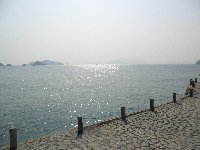 Vacation in Hong Kong Island
One of the most beautiful beaches and tourist attractions is Repulse Bay Beach in the southern part of Hong Kong Island.
It's the perfect place to head to if you wan't to escape the city life and routine to relax on the beach and enjoy a different side of Hong Kong.
I also love the Chinese Kwun Yam Shrine which overlooks Repulse Bay Beach and adds great colour and joy to the beach. To get to Repulse Bay you can just hop on the bus in downtown Hong Kong and the driver will take you on a beautiful coastal drive to the beach resort.
Back in Hong Kong another great tip would be to go to Stanley Market if you want to get your hands on some nice souvenirs or clothing, all for very good prices.