April 2nd, 2011
La Fortuna is a small town in Costa Rica which offers an amazing view of the active Arenal Volcano and will be a great place to stay because of its perfect location from where you can go on all sorts of dat trips.
We arrived at La Fortuna Airport and were brought to our hotel for the upcoming week, the Arenal Country Inn, a beautiful and serene place surrounded by lush gardens.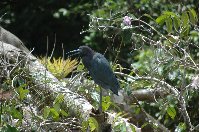 Travel Experience La Fortuna
One of the day trips that me and my boyfriend went on during our stay in La Fortuna was the boat tour towards the Costa Rica and Nicaragua border.
This Rio Frio boat tour will be a great way to view countries in one day but that of course wasn't the reason we wanted to go on it!
A boat trip on the Rio Frio is the best way to spot some of the local residents of Costa Rica and with that I mean alligators, wild monkeys, colourful birdlife, spiders, lizards, verano's and all kinds of amazing wildlife.