June 16th, 2011
I stayed in Playa Flamingo during a period of three months as part of study exchange programme with Costa Rica and other countries of South America.
During the week I went to school and on the weekends there were a lot of great weekend trips from Playa Flamingo to explore different parts of Costa Rica like our day trip to the Arenal Volcano.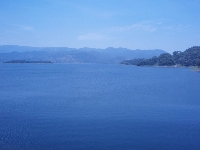 Where to go in La Fortuna
We also went to La Fortuna where we went hiking through the Rincón de la Vieja Volcano National Park and visited some of the areas most beautiful waterfalls. We also went on boat trips through the jungle (Eagle Tours is a good operator from La Fortuna) which was a great way to spot the wildlife!
In the south we went on a weekend trip to Samara and stayed at Hostel La Mariposa which was the best hostel we stayed at during all of our trips, near the beach, beautiful rooms and lazy hammocks ro relax in after a day of sightseeing.
Samara is a great destination for beach lovers just like Malpais and Montezuma in the Puntarenas region more to the south, where you will also find nice hostels like Hostel Lucy where we stayed at in Montezuma