May 5th, 2011
After my first three months of work in the United Arab Emirates my company hosted a trip to Abu Dhabi where we would attend a meeting for one of our projects.
During our time in Abu Dhabi, which is called the next Dubai of the Middle East we also went on a tour bus to do some sightseeing and get to know eachother better, a great way to work on teambuilding and enjoy this beautiful city.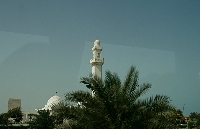 Holiday in Abu Dhabi
Abu Dhabi reminds a lot of Dubai and you will see the same high tech skyscraper dominating skyline, a beautiful cityline for what is the second largest city of the United Arab Emirates and the country's capital.
We did a lot of travelling by bus which was very comfortable but there are taxi's as well. We visited the Al Hilli Archaeological Park near Al Ain, east of Abu Dhabi where you can learn more about the history of Abu Dhabi Emirate while taking a look at ancient tombs and other relics. It was a beautiful site to visit and there were a lot of families coming out here to enjoy a picnic or take their children to the nearby attractions.