June 17th, 2011
Entering the Uva Province and leaving the Central part of Sri Lanka behind me the train I had travelled with had become my best friend and looking outside the window the landscapes had never dissapointed me.
I arrived at Bandarawela in the the Badulla District where it is known as the second largest city but also as an eco-friendly tourist destination for its beautiful and impressive waterfalls.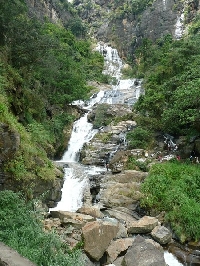 Holiday in Bandarawela
Most visited without a doubt are the falls of Ravana Ella located neat the Bandarawela-Wallawawaya road and known for its 30 ft drop. The falls are also known as some of the widest in Sri Lanka, so enough reasons to visit this beauty.
Other touristic attractions in area of Bandarawela include the Dhowa Rock Temple where you can find an incomplete rock carved statue of Lord Buddha (see picture below), the Bogoda Wooden Bridge in direction of Badulla and the Sir Lipton viewpoint in the Poonagala hills.