October 31st, 2011
Travelling by train is an experience which you shouldn't miss when visiting Sri Lanka and not because of the great seats or the comfort standards of the public transportation networks but simply because there will so much to look at, from the people carrying more than they can literally carry to the stunning views.
Maybe Sri Lanka by train is not something for the faint hearted and some constructions are without a doubt questionable but if you have an adventurous spirit it really can be a great experience!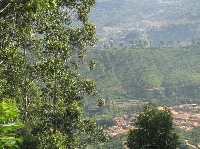 Holiday in Bandarawela
From Kandy it is a great way to travel in southeastern direction passing the stations of Bandarawela and Ohiya all the way to the gates of the Horton Plains National Park near the city of Nuwara Eliya in the central highlands of Sri Lanka.