October 24th, 2011
Sigiriya is not only a beautiful place to visit in the heart of Sri Lanka but this Lion's Rock has been drawing ever more visitors to the area and I could not stay behind:)
The rock of Sigiriya contains valuable ancient paintings or frescos dating back to prehistorical times turning this tourist attraction into UNESCO's 8th Wonder of the World.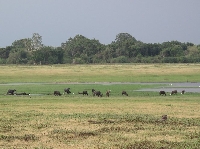 Travel Experience Sigiriya
Besides the frescos the setting of Sigiriya is something woth visiting as this huge rock formation rises above lush green gardens and carefully structured water reservoirs creating this magical panorama of the Lion's Rock looking after the land of Sigiriya and you can understand why this rock was chosen as the location where to built one of Sri Lanka's most famous Buddhist monasteries.
To get to the top of Sigiriya you better be in good shape because the big stone paws at the Lion Gate upwards are an indication of how this Lion will test your endurance! But then..the view from the summit overlooking the gorgeous gardens, is so worth the climb!