May 16th, 2011
From Habarana I continued my journey little south towards Sigiriya where I would be staying at the Sigiriya Hotel, known for its outdoor pool view of Sigiriya Rock.
This rock was also the reason of my visit to Sigiriya and the day after my arrival I went on a tour to climb this amazing monster.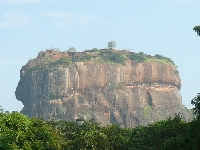 Holiday in Sigiriya
Sigiriya is known as an ancient rock fortress surrounded by beautiful gardens and pools used as an Buddhist monastery.
On top of the flat rock the site will show you the remains of a castle built by King Kashyapa of Sri Lanka during the 5th century AD. Besides these remains tourists come to climb the stairs of Lion Gate which start at the pows of this enormous rock carved creature which unfortunately misses the head as it has came down piece by piece over time.
At the same level, which would be at the middle terrace of the rock, you will find the Mirror Wall with incredible frescoes of hundreds of ladies covering a large part of the rock on its western face. Some of them were erased by the monks to keep them from wondering off during meditation;)
At the base of the rock there are some beautiful gardens which stretch for as far as the eye can see and the best way to observe this beautiful scenery would be from the summit of Rock Sigiriya where the stairs of Lion Gate will lead you to. From this balcony I could actually spot the hotel, see picture in gallery.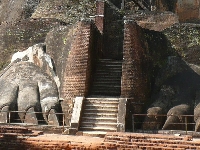 Holiday in Sigiriya
Sigiriya is a unique site that you could visit in two days and then travel further south like I did. From Sigiriya I travelled to Dambulla known for its impressive cave temples.