August 8th, 2013
Pedro's Beach is a relaxed and beautiful beach bar with an excellent cuisine and a very friendly staff. We had lunch and even dinner as they serve food non-stop till late in the evening.
It's a perfect beach bar because you can rent your sun beds and umbrella's on the beach in front of the bar, chill in the sun or shade and walk into the bar for a drink or a bite to eat.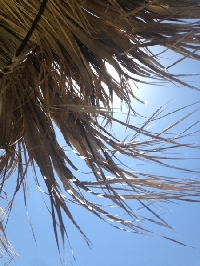 Travel Marbella
The quality of the food is very good, everything is fresh with authentic ingredients and great wines. We had salads, fruit, pasta's and calamari but the bread and butter was also very good!
The staff is quick to take your order and they cook up something delicious in about ten minutes, incredibile! As for cocktails, go with their jummy Strawberry Caipiroska, it's one of the best I have had.