August 8th, 2013
The H10 Andalucia Plaza Hotel has a breakfast inclusive booking option and I would suggest to go for it as it will not be a let down! The variety is huge from warm plates to fresh fruits and freshly baked goods.
There are different angles in the breakfast area where cooks are preparing omelets or scrambled eggs with the ingredients chosen by the guests, serving at least 10 types of smoothies and juices from the regular orange juice to mango, banana, strawberry and so on.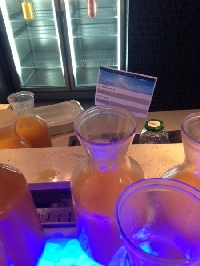 Travel Experience Marbella
Your table service is quick and very professional. We were asked every morning if we wanted a cup of tea or coffee and one time we moved tables and the staff immediately helped us by setting the second table.
The cuttlery was always clean just as cups and plates. The quality of the fruit and bread was very good and we had so many options from muffins and cakes to buns and toast. There were also hot plates such as sauges, beans, eggs, cheeses and much more.
A great hotel with a great breakfast to start your day in Marbella so thumbs up!