January 15th, 2010
The Pha That Luang is considered the most important temple in Laos and also referred to as The Golden Temple of Vientiane. This Buddhist stupa is not only a major touristic attraction but also a national symbol for the Lao people.
The Pha That Luang is placed in a beautifully constructed garden about 4 kms out of town and surrounded by a gate to seperate the temple from the street traffic. The best way to get to the Luang Stupa is by tuk tuk or rental car but seen the frentic traffic jams I would definitely suggest the first one.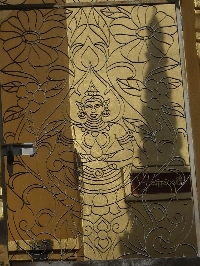 Detaills of Wat Pha That..
On the temple grounds of Pha That Luang you'll find locals praying to the several Buddhist shrines or bringing offerings to the statue of King Setthathirat placed in front of the temple.
The golden Luang Stupa is an amazing sight and from closeby you can see how much work has gone in the construction of this temple. You can decide to pay the 3000 Kip entrance fee, which is about 0,35 USD, if you want to entre the Pha That Luang and admire the gorgeous ceiling paintings yourself.
On the same sacred grounds there is the That Luang Nuea temple which is a lot smaller but beautiful as well. For souvenir shoppers, head to the small market outside the temple grounds, it's quite interesting because you'll find al kinds of offering gifts as well.