January 15th, 2010
After a long day of sightseeing the best thing to do is to have a cool drink at one of the many eateries on the Mekong River which runs from China, Burma and Thailand all the way through Laos, Cambodia and Vietname.
A lot of Lao locals own food stalls or eateries along the river and attract tourists with their amazing fried dishes and cool Lao beer. We heard of a place called Sala Khounta from other travellers who had a great time there and told us that this beer garden has one of the best views of the river.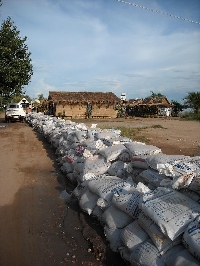 Lao build dike in Vientiane
The Sala Khounta garden is more like a bamboo thatched balcony bar upon the Mekong River and offers more than just the popular Lao Beers. You can order several tasty bites and you should definitely try their delicious spring rolls, they are too good to be true.
Sala Khounta is a stroll away from the town centre of Luang Prabang but an easy walk compared to a day of sightseeing.