January 15th, 2010
Located on the corner of Lane Xang Road and Setthathirat Road Wat Si Saket is known as the oldest temple of Vientiane. Tourists are attracted by the many Buddhist statues which count up to at least 2000 ceramic and silver Buddha figures.
On the interior temple walls you'll find thousands of small niches carrying a small Buddha statue or a couple of figures. The larger Buddha's in front of the niches are made of different materials like ceramic, silver, gold and wood.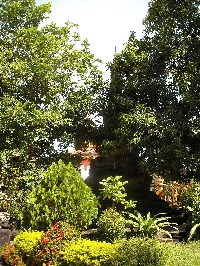 The gardens around the chedi
In the rear of the sim there is an altar carrying at least another thousand of Buddha statues and I was told the whole Wat Si Saket houses more than 6000 statues! So not only a great shaded place to cool off during your sight seeing walk around Vientiane but definitely worth a visit for this unique feature.