January 21st, 2010
At the end of summer last year me and my wife decided to go on a trip to Scandanavia aboard the luxurious Costa Luminosa cruise ship. We flew to Amsterdam from where the ship would depart for the Norwegian and Danish waters.
Heading to the North Cape we also made a stop in the beautiful city of Bergen, the second largest city of Norway and known for its narrow city streets and stunning hanseatic buildings which seem to come in every single colour.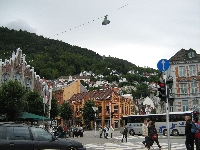 The city of Bergen in Norway
Bergen is also known for its exquisite cuisine and where in Europe can you get fresher seafood than here? Food stands in the city centre proudly show customers the best catches of the day while restaurants offer a wide range of delicious dishes including some of the world's finest salmon, lobster and crab meat.
Our journey to the North Cape was excellent and the facilites on board of the Costa Luminosa cruise ship were outstanding and everything from the restaurants and bars to the cinema, golf and spa area was more than we could wish for.
The North Cape was our final travel destination and definitely an artwork from nature. The landscape was gorgeous with the high cliffs, green valleys, small little rivers, immense blue lakes and impressive waterfalls.
North Cape is located on the island of Mageroya in Nordkapp and known for being the northermost part of Europe. It's here where the Norwegian Sea meets the Arctic Ocean and you will definitely feel the climate shifting a bit further below freezing point.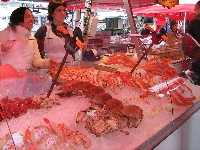 Seafood stands in Bergen,..
Once arrived on North Cape, we took our pictures with the giant globe and the Children of the World monument while we gazed at the immensely beautiful scenery. The landscape is so impressive and the contrast between the green hills and the deep blue waters of the Norwegian Sea is just amazing. To complete our journey we even got to see some reindeers alongside the way up to North Cape which was fantastic.