February 2nd, 2010
Shark Bay is an important heritage site in Western Australia and close to the seaside town of Denham. Within the site you will find several attractions like the stunning Shell Beach. This amazing beach is entirely made out of little white shells and hugs one of the most beautiful bays in the region. The water is crystal clear and reflects the white glow of the shells which is pretty magical.
Shell Beach covers more than 100 kms of coast and is one of the only two beaches in the world that are completely made up out of sea shells. You actually can't take any shells from the beach as the site is included in the Shell Beach Conservation Park to protect the unique character of this beautiful area.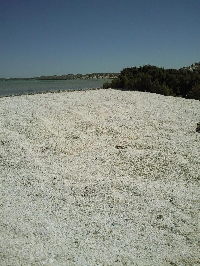 Stunning beach pictures..
From Shell Beach its a short drive to Shark Bay's next tourist attraction and one of the world most amazing discoveries. At Hamelin Pool you will find a large collection of stromatolites which are proved to be the world's oldest organisms and still alive in Shark Bay. To view these amazing little creatures you can walk over a wooden boardwalk and follow the information panels al the way to the end of the walk.