February 7th, 2010
What can I say about Kenia...it is a third world country and besides the nicely built resorts and hotels along the beaches you will see a lot of misery and pain, something that really had a huge impact on me on our trip.
I think it's normal that you will need several days to adjust to the completely differnt life style and daily rhythm. Of course the fact that we had the luxury of adapting to these changes on one of Mombasa's most stunning beaches with a thirty degrees water temperature and some of the most beautiful barrier reefs things are made a lot more easy.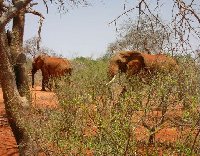 Safari in Kenya, elephants!
Kenya is such a beautiful country and we had great weather with temperatures over 40 degrees and we were lucky to see a lot of the country's amazing landscape and wildlife. We loved it all from the beaches in Watamu and Mombasa to the Crocodile Camp and the jeep safari in the Kenyan Savanna, one big adventure!
Snorkeling on its own was great with all the colourful fish and coral reefs but when we went of a wildlife safari in Kenia you just get blown away. The wildlife safari in the immense kenyan savanna was amazing and we saw lions, tigers, elephants, crocodiles, zebra's, giraffes, lepards and so much more.
We also did some tours to near islands where we saw dolphins and ate the best seafood ever. I would definitely want to go back to Kenya, an amazing country!