March 23rd, 2010
After several trips to what I call the most facinating continent on this planet I had the chance to revisit Africa last November.
I had been on a humanitarian mission to Tanzania where I stayed for three weeks and I also had been to Senegal in 2007 but this time I would finally get to see the amazing country that is Kenya.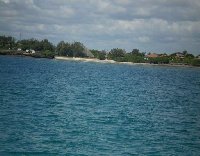 The coast of Kenya.
I stayed in Mombasa but had the chance to visit Malindi and Wartamu aswell. During my time in Kenya I stayed in a pretty touristic resort which you might call the only down side because I didn't get to see a lot of the real Kenya but it has been a very nice time.
A lot of people might not consider Kenya a good travel destination for a relaxing holiday but let's just say that they couldn't be more wrong!
There is an amazing coastline with beautiful beaches and lovely people, I would definitely recommend Mombasa to anybody looking for both a nice holiday as a real and unique experience.