February 10th, 2010
I made this trip to Kenya in 2005 just after I graduated and the weeks I spend there were amazing and an experience I will never forget. I spend one week on the coast which wasn't that great but the week in the Masai Mara Reserve was the best thing I have ever done.
Staying in the Masai Mara Game Reserve you live so close to nature that even waking up around 5 or 6 am every day becomes well worth it! I went to Kenya in the right period to spot the annual Great Migration of the zebra, gazelle and wildebeest which takes place from july to october.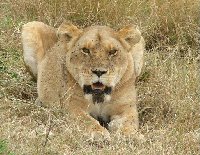 Tiger on a Wildife Safari in..
Milions of these animals spread over the African savanna to make the migration of the year and during these months its hard to spot a piece of green grass that isn't covered by the shadows of these herds. The Great Migration of zebra's, gazelle's and wildebeest stimulates the movement of other animals and predators as well and I felt so lucky to have experienced this awesome event of nature with my own eyes!
I saw all kinds of animals from the ones described above to leopards, lions, tigers, elephants, rhino's, giraffe's and many more. A trip to the Masai Mara Game in Kenya is a trip every traveller should take in their lifetime and I strongly recommend it!!