February 14th, 2010
I remember being in Poland for work in july, 2004 when a friend of mine called me with the question if I was willing to join her and two other friends on a trip to Madagascar the next month..
What a great idea.. went through my mind, finally I would have the opportunity to visit the most fascinating continent in the world and make my travel dreams come true! Back from Poland I purchased my ticket to Antananarivo, Madagascar and that was the beginning of one big adventure.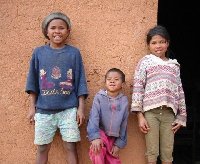 Local kids in Madagascar
Our stay in Antananarivo was pretty unique and we spend two days at the home of some friendly locals we had met just after arriving in Madagascar. We were amazed by the natural beauty of Madagascar and also the local cuisine was outstanding! Toasted peanuts, samosi ( similar to spring rolls ) and maschita ( chicken sate sticks ) are sold on every street angle and are very tasty. The fruit is just as good and the best I have ever tasted in my life!
To get to the beach side we hired a car with a driver which was really comfortable. The beaches are absolutely stunning and you will find endless stretches of white sand beaches to fulfill your every holiday need.
The best period to go to Madagascar would be december but the end of august is great for whale watching. The northern part of the island is more touristic and here you will find a lot of resorts and the possibility to book tours and trips. The island of Saint Marie is just undescribable and it definitely is a paradise on earth!